Posts tagged as "Christmas trees"
November 9, 2015 • Posted by admin in Uncategorized • Tags: bargain warehouse, Christmas, Christmas decorations, Christmas trees, holiday, Home Depot, Kohls, Lucky Dollar, Walmart • 0 comments
These are over-sized Christmas pallets from Home Depot. They have a great selection of the big blow ups, lights, decorations all just in time for your holiday sales.These are priced to move at only $200 for an over sized pallet.
October 13, 2014 • Posted by admin in Wholesale Pallets • Tags: 1200 count sheets, 544 Discount, accent pieces, accent pillows, Amazon, Amazon Prime, Appliances, art supplies, Auction, Auction zip, Bargain wholesale, Bargains, Beer, beer coolers, beer taps, Big Lots, Blooming Deals Resale, box spring, Calabash, Christmas decorations, Christmas trees, closeouts, coffee maker, cooking, Craigs List, damaged, Danby, deals, discount, discount furniture, discount pallet merchandise, Discount retailing, distressed, Dollar General, Dollar Stores, dryer, E-bay, E-bay business, Effingham NC, Essex, Facebook, Factory outlets, Family dollar, flat top range, flea market, Furniture mattresses, garage sale, Grand Strand, Home Depot, Home Essentials, home improvement, K-Mart, kegorators, Kirklands, Kitchen, Kohls, Lawn & Garden, lawn mowers, liquidation, Little River, Lowes, Lucky Dollar, Marshalls, mattress, mattress firm, Mattress King, Mattresses, merchandise pallets in NC, merchandise pallets in SC, Myrtle Beach, N Myrtle Beach, NC, North Carolina, North Carolina salvage wholesale, oven, overstock, overstocks, pallets, patio furniture, patio tables, Pet, Pet Smart, Petco, pillows, power tools, QSI, range, reduced, reduction, refrigerator, retail store returns, returns, Ross, Salvage, salvage pallet merchandise, salvage wholesale, salvage wholesale in NC, salvage wholesale in SC, SC, seaboard bedding, Sealy, Sears, Serta, sheet sets, sheets, shelf pulls, side by side refrigerator, Simmons, South Carolina, South Carolina salvage wholesale, Sporting goods, stay at home business, Sterns & Foster, stove, sun glasses, Target, Tempurpedic, Thomlinsons, TJ Maxx, truckload, truckload liquidation, truckload sales, Used appliances, Walmart, washer, Wholesale, wholesale pallet merchandise, Yard sale • 0 comments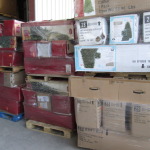 These are Christmas tree pallets of nine trees to a pallet. They retail for $300-400 a tree.$2700-$3600 a pallets retail. Your price for a pallet is $250 and $300 per pallet.