Posts tagged as "vanitiy"
Truckload of Home Depot bathroom items-Tubs, vanities, sinks, toilets, mirrors and medicine cabinets
May 9, 2016 • Posted by admin in Uncategorized • Tags: Appliances, bargain warehouse, Bargain wholesale, bath tubs, bathrooms, E-bay business, flea market, garage sale, Home Depot, home improvement, Lucky Dollar, overstock, reduced, returns, Salvage, Sears, shelf pulls, showers, sinks, vanitiy • 0 comments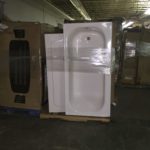 Super value-we now have truckloads of Home Deep O bathroom truckloads. These trucks are loaded with tubs, sinks, vanities and more. At $2000 a truck they will not last long.